Reviews Analisys: top shopping centres 2022
Our poster with the analysis of the best and worst shopping centers in Italy based on the reviews left by customers.
November 2022.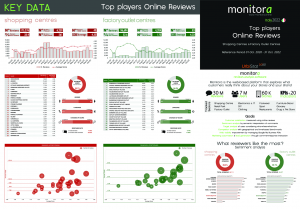 The best Shopping Center: Oriocenter, Adigeo, Il Centro.
The worst: Lingotto, Shopville Gran Reno, Grande Sud.
The best Factory Outlet: Serravalle Design Outlet, Castel Romano Design Outlet, Franciacorta Outlet Village.
The worst: Mondovicino Outlet Village, Shoppinn Brugnato 5terre, Città Sant'Angelo Village.